I had been waiting a long time for testing the FIM 470 Regina, the latest addition to the magnificent collection of FIM – Fabbrica Italiana Motoscafi, and finally the day has come. I had already assimilated her beauty and innovations on paper, but when I saw her docked at the Marina di Varazze, I immediately realized that what I knew was just the tip of the iceberg.
Indeed, you can only perceive certain things by getting on board, exploring the spaces, putting your hands on the control console and facing the sea.  Every corner of this open sports yacht designed by Paolo Ferragni is thought out in a modular manner. However, it is not enough to say that it is possible to modify the exterior and interior spaces as required, because this jewel is built to adapt to all needs, with the ultimate aim of providing the maximum living experience and leaving guests completely immersed in an elegant and refined atmosphere, where everything is intended to seduce and amaze.
And so it did. This yacht has completely enchanted me, and now I will tell you why.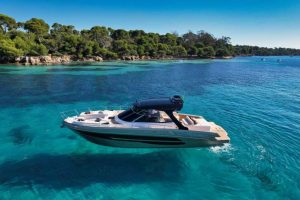 The FIM 470 Regina in detail
I want to tell you about her as she appeared before my eyes. At 15.10 metres long and with a beam of 4.40 metres, her spaces are absolutely enviable. The stern cockpit is mechanized, raising and lowering as required: in one mode it is perfect for facilitating the launching or hauling of a tender or jet ski, revealing two retractable steps. But in an instant it lifts up to show its full extent, creating a single spacious central area that ensures maximum liveability.
Spaces are designed to be exploited to the full. The boat is designed to make the most of open air spaces, thanks to the moving stern and bow systems. The forward sundeck translates sideways to create a true beach area, a layout that the designers have dubbed "Bow Life": by dividing the sun deck in half, a reinforced glass panel can be walked on, providing stunning light for one of the two owner's cabins, a table can be added and turned into a dining area, and it can even be filled with water to create a small swimming pool… wonderful.
The aft cockpit can also be extended by means of a mechanism that divides the sundeck. This creates a spacious central area that is perfect for enjoying a relaxing day at sea, diving and lounging on the elegantly finished couches.
The helm station is spacious, modern, dominated by the black colour. I can't wait to get my hands on the steering wheel, which is a piece of craftsmanship made especially for this boat, but I have to wait a little longer for that, first I want to get below deck.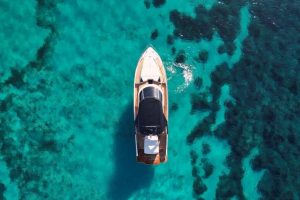 To call it bright is an understatement. Natural light pervades the two splendid owner's cabins where large windows allow the sun's rays to penetrate fully, illuminating the spaces and leaving a rarely found view of the sea.
The two owner's cabins are to two junior suites filled with details of pure elegance, many of them designed by Liu Jo. In the main owner's cabin, the double bed can be split in two and a reinforced glass on the bow opens up above your head, letting in plenty of natural light that joins that of the large side windows. We are talking about a four-metre room, so spacious that it feels like being in a 60-footer.
Both cabins have a ensuite head with shower, sanitary ware and elegant Nobili enamelled steel fittings. Every corner conceals a drawer, a hideaway wardrobe, and the look is never dull: the headboards of the beds are in hand-stitched Primo Fiore leather, the mattresses are of superlative quality and comfort, the lighting is all indirect LED, and each of the two rooms has its own climate control, as are the audio and video devices. All this is Full Domotics, meaning that everything is controllable from an app (but also with a classic interface): the icing on the cake of an open yacht that has definitely raised the bar.
Sea Trial
If the look has literally seduced me, resting my hands on the steering wheel sends a shiver down my spine. It is obvious that having something so exclusive in your hands leads you to treat it with the utmost attention, but I quickly overcome this reverential fear because I feel very comfortable: it is time to start the test of the FIM 470 Regina.
The sea conditions are quite tricky, with waves of about a metre and a half and a lot of wind: there are 12 of us on board including me. As we leave the marina and get familiar with the instruments, I look up and realize that there are six of us on the bridge, four seated and two standing.
We attack the sea, it's really rough, but the hull is perfectly designed, it slices the wave in half decisively, limiting the inevitable bounce by quite a bit, and it does it constantly, one wave after another, so much so that I'm tempted to keep putting the throttles down.
The boat gets up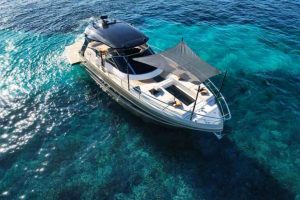 on plane at about 12 knots and from there I speed up to cruising speed: the engine revs up to 2700, the speed is 26 knots and we are consuming about 155 l/h.
The boat is revealing all its sportiness. The two Volvo Penta IPS 800 engines with 600 hp each are giving me a tremendous boost, the hull does the rest. I turn slightly to port, take in the sea, and turn for a moment to see how the others on board with me are: from their faces they are really enjoying it, and so I decide that we can give ourselves one last thrill.
I turn sharply to starboard and put the throttles down a bit more, the Fim 470 Regina is touching 30 knots and the waves seem even higher than before: it's almost a challenge, a fun challenge that gives everyone a thrill. Despite the wind and a few drops of rain, we are all amazed: no creaking, no vibration, no hesitation. What a beautiful boat!
Once ashore, I still have all the emotions of this dizzying hour at sea on me. I linger a moment longer to look at her, she is beautiful there is little to say. But that's not all; she's elegant and sporty at the same time, she's gritty but attractive, she's big, spacious without compromising her agility.
I realize that I have had a rare experience, from the front row moreover, and I think that next summer I would like to be nowhere else but on board this wonderful yacht.
| | | | |
| --- | --- | --- | --- |
| TEST DATA | RPM | KN | L/H |
| CRUISING SPEED | 2700 | 26 | 155 |
| PLANING SPEED |   | 12,5 |   |
| TOP SPEED | 3060 | 34,8 | 205 |
Data provided by Fim – Fabbrica Italiana Motoscafi: calm sea, no wind, 8 people and 50% fuel