From Haute Couture to High Rolling:
Delights off the Docks of the Fort Lauderdale International Boat Show . 
Internationally renowned for hosting the world's largest in-water boat show for the last 63 years, Fort Lauderdale, Florida, enjoys a tradition as strong as the trade winds with the boating community. Thanks to 300 navigable miles of tropical inland canals – complete with gondolas from the New River tidal estuary gliding through the Intracoastal Waterways – the maritime metropolis has earned itself the "Venice of America" title.
However, aside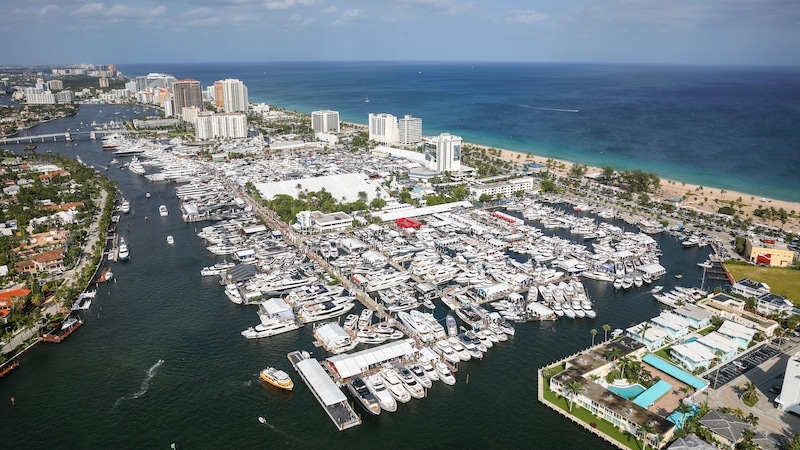 from enticing aquatic vices offered along the city's coastline from its imitations of Italy to having the option to anchor that precious Absolute Yachts or Ocean Alexander offshore… time spent on terra firma can be just as unforgettably fun and fulfilling.
For seafarers in town for Fort Lauderdale International Boat Show (FLIBS) taking place from the 26-30 of October, whether you favor strolling the shops or rolling the dice, our two top choices sans water in the western region – Sawgrass Mills Outlets and the Seminole Hard Rock Hotel and Casino – are guaranteed to fill your closet and fatten your bank account… if you play your cards right!
Shop till You Drop at Sawgrass
Designed in the shape of an alligator and named after an Everglades plant – Sawgrass Mills Outlets located off West Sunrise Blvd is a fashionista's shopping fantasy come true. Encompassing 2.4 million square feet of retail space housing 350-plus stores, the place is so immense it has two Michael Kors and Lacoste locations.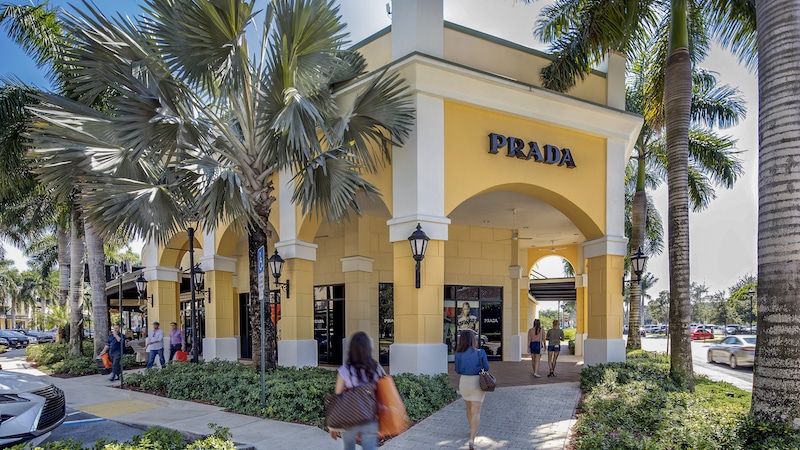 And while the premiere shopping center is divided into three sections (the main mall, the Oasis and the Colonnade) haute couture devotees should head to the Colonnade for the latest looks coming off the catwalks.
The upscale lifestyle area with visible Mediterranean flair boasts of 70 exclusive boutiques from Bally and BOSS to Valentino and Versace. Timepiece aficionados will also take pleasure in the possibility of adding a new watch to their personal collection from Breitling or TAG Heuer also found on the promenade.
But, it gets better! After walking for hours on end seeking out the latest trends, weekend valet parking makes placing those purchases back in the vehicle all the more easy, easing feet and leg strains, before returning to one of the 50 appetizing eateries to appease increasing hunger pains.
Open Monday to Saturday from 10 a.m. to 9 p.m. and on Sundays from 11 a.m. to 8 p.m., expect an international crowd schlepping around shopping carts that resemble airport luggage trolleys. Also expect to find that "something special" you'd been on the hunt for, seeing that, Sawgrass Mills is loaded with goods, gadgets and gear to please even the pickiest of shoppers.
Live Like a Rock Star at the Seminole Hard Rock Hotel and Casino
You can wake up in an upcycled 1965 Boeing 727 in Costa Rica and a sailing ship themed hotel in Dubai, but when in Fort Lauderdale – it's high time to live like a lavish rock star at the first-ever guitar-shaped Hard Rock Hotel and Casino, under ownership by the Seminole Indian Tribe.
Referred to simply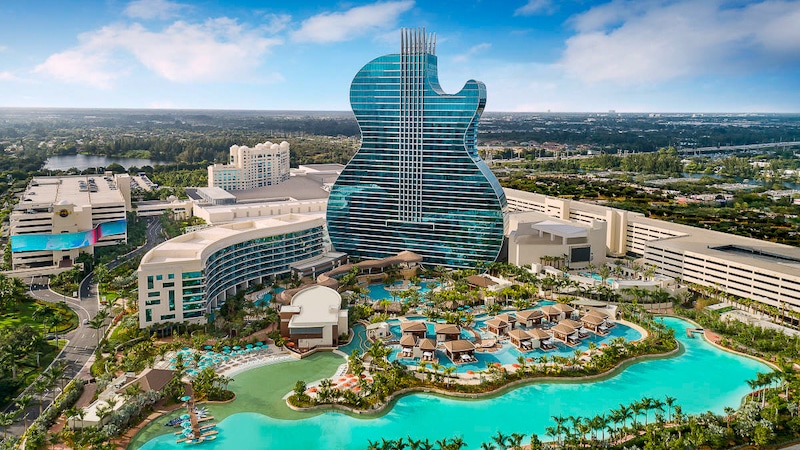 as "The Guitar Hotel," soaring 450 feet (137 meters) high, the iconic symbol of the Hard Rock re-opened in October of 2019 following a $1.5 billion expansion spanning three years to bring life and light (actually many lights) to the locality.
Constructed with a total of 16,800 LEDs choreographed to change color and intensity to a series of songs – the lights serve as a screen and stage for a daily musical showcase happening on Friday and Saturday nights at 9 p.m. and 9:30 p.m., and Sunday through Thursday at 9 p.m. Six high-powered laser beams projected 20,000 feet into the sky mimic the strings of an imaginary guitar. Most visitors believe the masterpiece to be of generic design, but some rock-n-rollers relish in the fact that it's based off a Gibson Les Paul electronic model replica.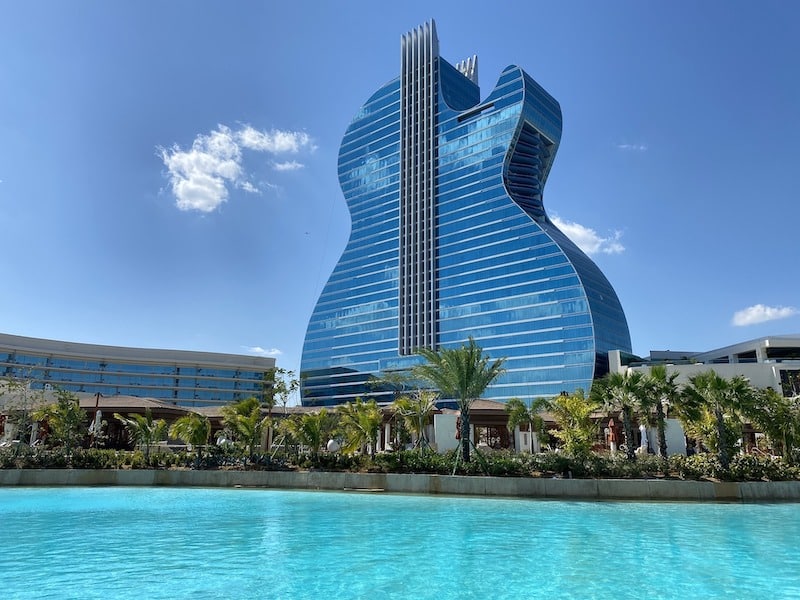 Once done ogling the awesomeness of the gargantuan-sized beaming guitar from outdoors, it's time to enter the establishment through the Oculus, the resort's multi-sensorial epicenter mixing theater, technology and architecture together. The Oculus acts as a link to the varying hospitality, gaming and entertainment destinations for diversion and options to keep busy on the premises, as suggested below:
*The around the clock gaming casino consisting of 2,200 slot machines and more than 200 table games.
*The winding promenade of boutiques for guests not gung-ho on trying their luck or for the lucky ones looking to unload some of their winnings.
*Party like a rock star at your choice of venues from: cocktail, live music and sports bars, to the tropical poolside day club or cutting-edge upper level night club.
*Attend a show in the 7,000-seat theater hosting A-list entertainers from Billy Joel to Sting, to awards ceremonies and sports events.
*After playing, partying and taking in a performance, why not overnight in a unique private swim-up cabana reminiscent of a "Bora Bora-style experience" complete with butler service!
Extravagance can be found all around Fort Lauderdale – no matter your fancy, seek and you will find it from the shoreline to the suburbs before, during and after Fort Lauderdale International Boat Show !