The new electric Corvetta 24 wins everyone over: zero environmental impact and traction aesthetics.
Giorgio Mussini shipyard's new Corvetta has recently been launched on the market, this time in an electric version. The historic Portofino-based shipyard led by founder Giorgio and his son Gaetano has developed a unit they have been dreaming of for years: a day cruiser with almost zero environmental impact.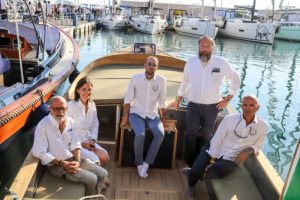 Precisely during the period of the Covid-19 pandemic, the company pushed the accelerator of creativity and resourcefulness by combining its handcrafted product with electric propulsion.
The propulsion unit was developed and supplied by E4Boat, a network of highly specialized and innovative companies in advanced robotics, electrified and hybrid propulsion and shipbuilding.
The electric Corvetta 24 thus presents itself as an environmentally and financially friendly recreational boat, dedicated to families taking a day trip and slow tourism whether at sea or on the lake.
Corvetta 24 – Design
Featuring elegant and sophisticated lines, the icon of the Giorgio Mussini shipyard that is a symbol of the dolce vita in Portofino is now green. The yard's first ecological boat astonishes and conquers, taking nothing away from aesthetics and tradition but, on the contrary, adding an important step forward in terms of savings and environmental pollution. Only plus points for this luxurious and exciting craft, almost 8 metres long, characterized by a fibreglass hull, a very deep V-shaped bow and a hull designed to enhance the strengths of the day cruiser: speed, handling and incredible seaworthiness even in very difficult conditions.
All this is combined with precious mahogany or teak finishes that unify the boat and give it that air of craftsmanship and warmth that wood can give.
Electric propulsion
The engine of this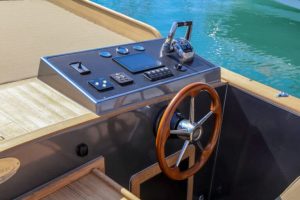 Corvetta 24 is the real revolution: permanent magnet electric propulsion generating a minimum power of 30kW with a static power converter and battery modules for a total of 65kWk which translates into an autonomy of no less than 4 hours for the owner.
Not only is the environmental impact reduced to zero, but another important peculiarity comes into play: you will be able to navigate listening only to the sound of the sea.
In fact, the electric engine, unlike the endothermic one, guarantees an unprecedented silence that renews the classic experience at sea aboard a Corvetta and allows the owner to drive and listen only to the music of the sea beating against the hull.
The new electric Corvetta 24 makes a real leap forward for Giorgio Mussini shipyard, which has always been a producer of fine yachts, with tradition in its heart and a mind in the future, as this new model on the market demonstrates.