We had previously talked about the Mediterranean en Rose, a raid organized by Nuova Jolly with an all-female crew and the aim of raising funds for the Lorenzo Perrone Association, whose 'Pink Heart' project provides a free medical transport service for women who have to undergo cancer visits and treatment. We had the chance to interview the three girls of the crew who have now arrived in Varazze, their next-to-last stop: Sara Aiello, Daniela Covati and Carla Gnemmi. The initiative, also involving Simrad and Suzuki, was a great success and we hope it will trigger a considerable butterfly effect.
"Joining the Mediterranean en Rose was an honour, as well as fun. Combining a passion for the sea with such an important cause as the Lorenzo Perrone Association's Pink Heart project and sharing this experience with historical partners such as Nuova Jolly and Suzuki was the perfect culmination to a year of raids and adventures, even transoceanic ones, such as that of Sergio Davì" says Roberto Sesenna, General Manager Simrad Italia – As far as the role of women in the boating world is concerned, we are happy with this initiative and we hope that these female enterprises will be more and more frequent and that they will no longer make the news, except for the sporting content and adventurous spirit of the crew".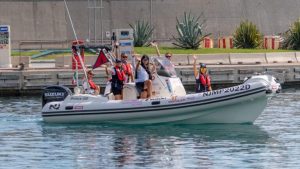 How did the idea for Mediterranean in Rose come about?
Sara Aiello: "By watching Sergio Davì's live broadcasts. Antonio had noticed that there were a lot of women commenting enthusiastically and one day he came to me asking if I wanted to do a women-only crossing.
We wanted to remember the roots of Nuova Jolly by starting from Calabria, in Amantea, and the arrival at the Genoa Boat Show coincided with the dates"
How many miles did you travel aboard Nuova Jolly's Prince 22? In what weather conditions?
Carla Gnemmi: "468 miles. The first two segments were really flat and it was very hot. We did them all in one day. Then we did 140 miles to get to Naples. After this leg there started to be a bit of a wave and after Circeo we found a 25-knot mistral. It wasn't dangerous, but a bit uncomfortable. When we arrived we were a bit tired. We got as far as Piombino, welcomed Sara, Maddy and Velina and stopped at Bocca di Magra. Daniela was the fastest doing 37.2 knots, but Elena was also not far behind."
What do you think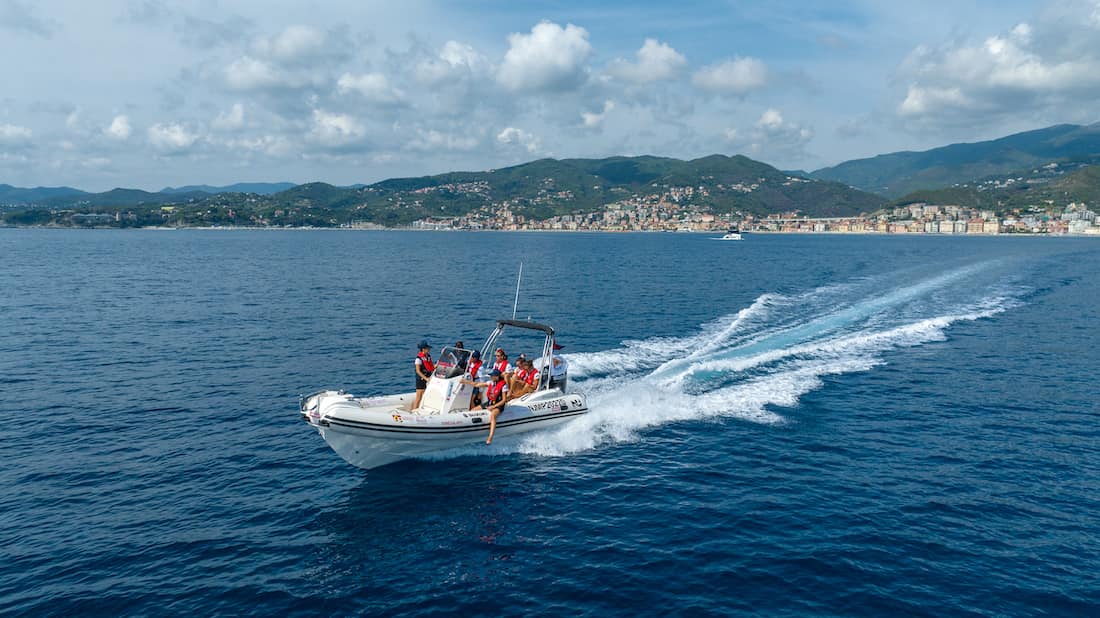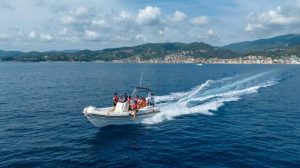 about the role of women in the boating sector? Do you think the Mediterranean en Rose can contribute to improving the position of the female gender in the world and, above all, in the boating sector?
Sara Aiello: "Compared to other fields, boating is still lagging behind, especially in Italy, where there is still a lot of machismo and commoditisation of women, who are only seen as models on dinghies. We also had confirmation of this when we were getting petrol, where people would look at us strangely and ask if we were capable. Then they saw that we were doing well and went whistling. There is a lot of room for improvement: a woman can be a model as well as being at the helm."
Do you plan to repeat a similar feat? If so, on which route?
Sara Aiello: "We have thought of repeating it, if not annually because it is very time-consuming, at any rate addressing a different entity each time. As for the route, we haven't thought about it yet, but it wouldn't be bad to go around Sardinia or up the Adriatic coast from Lecce."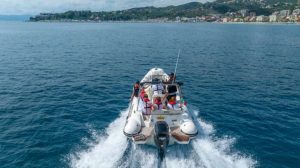 We then asked Riccardo Perrone and Rosalba Tanda, vice-president and president of Associazione Lorenzo Perrone, a question:
What did this charity initiative represent for you?
Riccardo Perrone: "The attention of a great friend (Antonio), because when a person puts something like this together with such commitment, it is always moving. The contribution has been there, but Antonio tells me it's not over yet."
Rosalba Tanda: "The funds obtained will be used for the free medical transport of women who have to undergo oncological examinations and treatment with one of our two association cars."
Riccardo Perrone: "The venture is over, but the support does not end here. We know that this initiative has brought attention and awareness. a piece came out on mediaset, we are making contact with other news channels, we have had a return in the specialist press and local magazines. We are keen that everything we do remains free of charge."