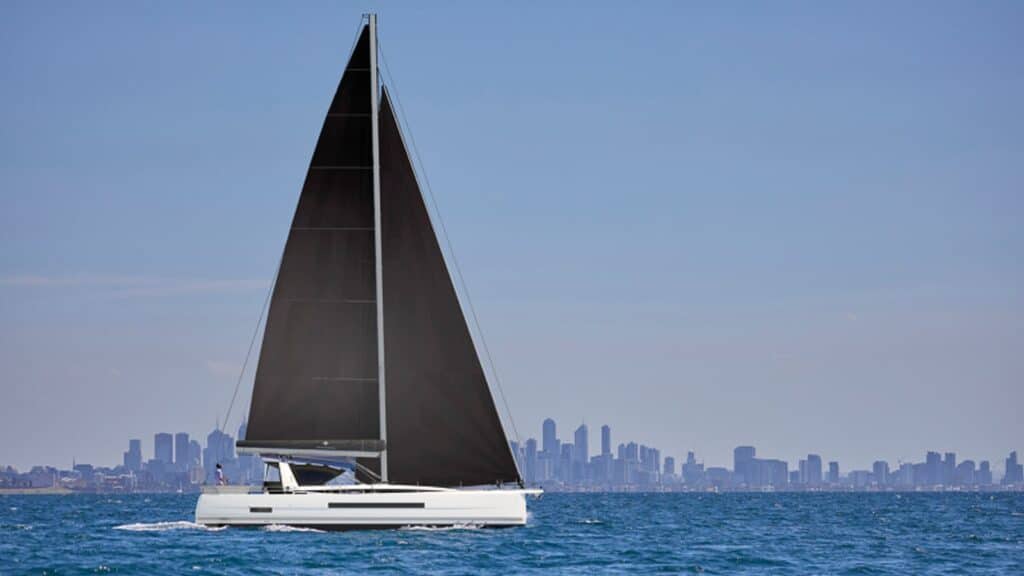 Jeanneau Yachts 55: a new boat for offshore sailing enthusiasts to be launched in 2023.
A new concept in the world of Jeanneau Yachts
The Jeanneau Yachts 55 is the French boatbuilder's new 55-foot offshore sailing yacht, expanding the family currently consisting of 54-, 60- and 65-foot models. Its official presentation is expected in January 2023, at the Düsseldorf Boat Show.
The French boat builder's new sailboat is designed for sailors who like open waters and who are looking for a smooth and quiet cruising experience, thanks also to its generous and refined living spaces. This 17-metre long sailing yacht is distinguished by elegant and modern lines, with an outward-facing layout designed for the owner's well-being and privacy.
Jeanneau Yachts 55: the owner-oriented experience par excellence
A genuine expression of Jeanneau's know-how, the new 55-foot sailing yacht is the result of a collaboration with French naval architect Philippe Briand and the London-based Winch Design studio.
The flush cockpit is divided into two distinct spaces and boasts three walkways, two of which provide private access to the guest cabins.
The bow houses the double helm station and an external chart table with GPS display and autopilot control, protected by a large wraparound windscreen and hard top that guarantees perfect navigation in all seasons and at all latitudes. The mainsail is available in both classic and furling versions, the canopy is standard and an optional fixed windscreen is offered to ensure maximum protection of the forward cockpit.
A sea of comfort
The Jeanneau Yachts 55 is designed like a floating flat on the open sea: the deck space is ample and optimized to meet all requirements, thanks to a length of 16.99 metres and a width of 4.99.
The aft cockpit is entirely dedicated to relaxation, with sofas on both sides – one U-shaped and one L-shaped – and with tables and benches that transform into a real full-beam lounge. It is also equipped with a huge retractable hydraulic bathing platform, allowing direct access to the water for swimming, to the delight of everyone on board.
The forward cockpit provides access to the two guest cabins, as well as the gangway leading to the immense owner's suite. The flush deck features integrated, wraparound side-decks that are slightly wider, making it easier to move around the cockpit perimeter.
Maximum protection of the living spaces has been equally well considered. For long offshore cruising, in addition to the wraparound windscreen, Jeanneau has imagined a true cocoon, with a hard top that completely encloses the bow rudder, as well as the possibility of installing a hard top with solar panels and a bimini to shelter the aft living space, dedicated to relaxation.
Generous interior spaces
To starboard, a large galley overlooks a large L-shaped saloon. The windows in the hull and deck hatches are designed to let in maximum light and offer a spectacular view of the sea. Handrails and numerous handholds contribute to safe and easy movement on board while underway.
The master cabin is a real cocoon of well-being, with a large port berth, numerous storage compartments and a dressing table. The ceiling treatment and indirect lighting create a warm atmosphere. The head uses the forward beam. An optional skipper's cabin can be added.
Guests enjoy exclusive access to the cabin from the forward cockpit. The two cabins with double beds each have their own private bathroom and are furnished with fine woods in shades that can be customised to suit the chosen atmosphere.
Wherever you are on board the Jeanneau Yachts 55 you can feel the shipyard's attention to detail: the leather-covered door handles, for example, do not go unnoticed.
Power and easy handling
On board this modern yacht, with a draft of 2.45 m (or 1.95 m with a shallow draft), the owner can choose between two possible rigging options: classic or with a furling mast. Jeanneau's main goal is to simplify and maximise sailing performance, offering a reliable, all-weather rigging.
The owner can also choose between a self-tacking jib or a classic genoa. A code 3, for crosswinds between 15 and 20 knots of true wind, can be fixed on the bowsprit. When entering or leaving port, the bow and stern thrusters greatly facilitate short-haul manoeuvres.
Jeanneau Yachts 55 – Technical Specs
LOA (with bowsprit)16.93 m – 55'6″
LH: 16.09 m – 52'9"
LWL: 16.05 m – 52'7"
Maxi Beam: 4,99 m – 16'4"
Unladen Displacement:18 542 kg – 40 878 lbs
Standard Keel Draft: 2,55 m – 8'4″
Standard Keel Weight: 4.900 kg – 10.803 lbs
Low Keel Draft: 1-98 m – 6'5"
Low Keel Weight: 5,680 kg – 12 522 lbs
Fuel Capacity: 230 L – 61 US Gal (460 L / 122 US Gal opt.)
Water Capacity: 760 L – 201 US Gal (990 L / 262 US Gal opt.)
Design Category: A12 / B16 / C16 / D16
Cabins: 3
Engine: Yanmar 110 CH shaftdrive – 81 kW
Standard Sail Plan:131 m2 – 1,410 M2
Optional Sail Plan: 159 m2 – 1.711 sq Ft
Asymmetric Spinnaker: 250 m2 – 2.690 sq Ft
Code 0: 110 m2 – 1.184 sq Ft
Mast height above the waterline: 25.20 m – 82'4"
Architects: Philippe Briand – Winch Design – Jeanneau Design